George-Sand Media Library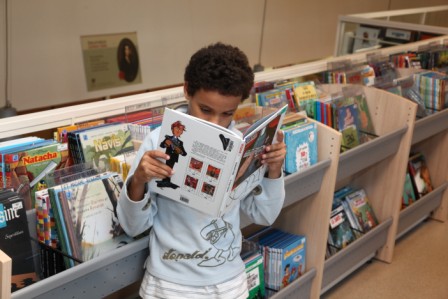 On the ground floor
- A room for toddlers with picture books, tales and documentaries from 0 to 6 years.
- DVDs with over 500 fiction DVDs and over 120 documentaries.
- CDs: more than 100 CDs, songs, nursery rhymes, stories to listen to, world music, etc.
- Novels, detective stories, fantasy, classified by age group : first readings for 6-8 year olds, children and teenagers for 9-15 year olds
- Documentary books : more than 3 000 books in all fields, history, science, mythology, sports, manual activities, art, etc.
- Magazines: 29 titles from toddlers to teenagers : Pomme d'Api, J'aime lire, Sciences et vie Junior, Okapi, ...
On the Mezzanine
- More than 3 000 comic books and mangas for children and teenagers.